Reborn with an excellent sole feeling
with overwhelming high friction.
SANOA's sole is characterized by high friction and excellent foot feel.
It exerts a strong tenacity when stepping on and brings a direct sole feeling as if grabbing with your toes.
It has ability to correspond to not only for lead climbing or bouldering, but also for all-round climbing styles regardless of nature rocks or artificial holds.
Your climbing performance is surely supported by absolute quality.
This photo is for illustrative purposes only. SANOA logo is not printed on actual sole.
This dedicated sole is finally born for the first time ever in Japanese climbing shoes history.
Until now, the sole rubber of climbing shoes was only available imported items from overseas.
SANOA is newly just produced in Osaka in 2019 as Japanese first resole product brand for climbing shoes.
We are committed to in-house production as MADE IN JAPAN, and we deliver this special sole rubber from Japan to all over the world with its incomparable quality.
It has finally released after over 3 years long research & development
by the professional of rubber products.
SANOA was produced by MARUNI INDUSTRY, the only tire repair manufacturer in Japan, through trial and error.
Climbing shoe soles have never been easier to develop because they require high levels of friction, hardness, and durability.
In product development, with the cooperation of climbers, we pursued high quality, safety and foot comfort and also tested the functionality and durability. And finally we completed this special sole for climbing shoes.
It is absolutely Maruni's ultimate masterpiece which has been extracted from 70 years' experience of rubber knowledge and technology.
The birth of a sole specially focused on friction.
PRESIDENT MARUNI INDUSTRY CO., LTD. SUGURU ASANO
I myself do climbing, and I thought it would be great if I could fix my favorite climbing shoes by my company's products.
When I started research & development, I found that the rubber of climbing shoes require unique characters to have friction and durability, and then we repeated trial and error many times.
With the experience of dealing with rubber for many years and the cooperation of climbers' monitoring, we are very pleased to announce our newest and greatest sole that is totally focused on friction.
I would like many climbers to try it, from beginners to advanced climbers.
When you challenge the limits,
powerful friction performance leads to the next move.
SANOA's sole takes on difficult tasks and it strongly supports you when you feel your foot get out of hold.
It is a very reliable sole for climbers who value importance on friction performance.
26 years old, Height 160cm
Hometown: Wakayama prefecture, Japan
A former Japanese national bouldering team player
Favorite climbing style: Bouldering
Record: 5th place at FISE World Series Hiroshima, Japan 2018 / 15th place at World cup 2018 Taian, China
Confidently you can step on the rocks
with excellent stickiness and sole sense.
SANOA's sole has a good feeling of soles, and stickiness is directly transmitted at climbing. Since you don't feel slippery when climbing, you feel secured and you even want to challenge a smaller hold which you have never tried before.
I have been climbing over 10 years since 2008.
Originally I was surfing, so I got into outdoor climbing that confronts nature.
Mainly I climb outer rocks.
I like trying onsight and highball.
My goal is Bishop Ambrosia (V11)
The voices of top climbers
Resole is available at SANOA dealers
which repair climbing shoes.
They are presented in a random order.
We are looking for suppliers who would be interested in dealing with SANOA products.
Please feel free to contact us.

The Only-one Sole for Climbing Shoes
Made in Japan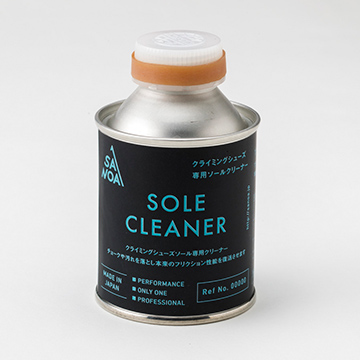 SOLE CLEANER
for climbing shoes
Sole that have been overused in climbing have some problems with not only wear out, but also it will not be able to demonstrate its original rubber performance due to chalk and dirt. SANOA's sole cleaner can remove old rubber on the surface slightly and expose new rubber to restore the friction performance.